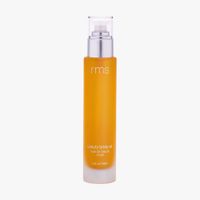 (€529.00 / 1 l)
Prices incl. VAT plus shipping costs
In stock
Delivery within 1–3 Days
Available in Store
Vegan
Less waste
Travel-size
Liquid luxury your whole body has been thirsting for. Beauty body oil, a new formula inspired by our coveted beauty oil, is now available for every inch of your skin.
A highly concentrated blend of hydrating and nourishing oils including jojoba, buriti and organic coconut oils, vanish into skin, leaving it supple and glowing.
This rich and fast-absorbing (never greasy) body oil rejuvenates and restores even the most sensitive skin. Suitable for all skin types.
RMS Beauty
Rose-Marie Swift had been working as a well-known make-up artist with famous models, photographers and fashion magazines for many years, when she suddenly had to deal with serious health problems. During her healing process and intensive research she discovered that some of the toxic chemicals and heavy metals in her body were also due to common beauty products she used daily. After restoring her own health, Rose-Marie wanted to help other women claim their right to healthy, natural beauty and created the first truly clean makeup line of its kind ...More
Show more from RMS Beauty
show all from RMS Beauty