Fine
Ginster Origanum 50g Stick
Deodorant Stick
This product is currently not available.
Please inform me as soon as the product is available again.
A vegan, aluminum-free deodorant stick that refreshes and reliably protects the skin. Carefully selected ingredients prevent unwanted body odor while caring for even sensitive skin. Broom serves as a sweet base scent and is supported by floral Origanum as a top note. A fragrance of Spanish evenings and Scottish landscapes.
Suitable for: All skin types
To be used as: Deodorant
Fine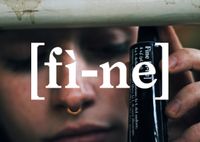 Fine was founded by the curator, urban researcher and yoga teacher Dr. Bettina Judith Springer from Berlin and has her enthusiasm for three things in mind: health, smell and beauty. Blessed with a sensitive nose, for decades she has been searching for a deodorant, which not only prevents unpleasant smells, but at the same time satisfies her three obsessions. She did not come around: "I had to invent Fine." "Fine" is Italian for "end", which is exactly what Fine does: it finally ends annoying body odors, which are often associated with a feeling of discomfort ...More
show all from Fine