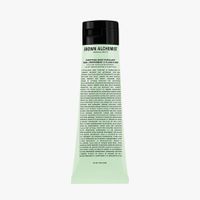 Grown Alchemist
Purifying Body Exfoliant: Pearl, Peppermint & Ylang Ylang
Body Scrub
A revitalising body scrub that gently exfoliates, leaving wonderfully soft and supple skin.
Removes the build-up of unwanted dead skin and dirt
Moisturizes, detoxifies, clarifies and tones the skin
Antibacterial and preventive regarding breakouts
Makes skin softer
Invigorates skin
Helps prevent premature aging
Vegan
Key ingredients: Aragonite and Conchiolin Proteins from pearl gently remove dead skin cells noticeably decongesting the skin and improving cell turnover maximizing the skin's ability to absorb moisturisers. Ylang Ylang and Geranium Oil noticeably remove excess sebum, visibly improve skin texture and appearance and reduce skin discolorations leaving skin looking clearer, more even-toned and soothed without irritating, drying or removing the skin's acid mantle. Natural Peppermint Extract calms and soothes while antioxidant rich Rosemary Leaf Extract assists visually restoring skin suppleness and softness rejuvenating the skin, leaving the skin looking smoother, firmer and refreshed.
Scent: An invigorating minty, fresh aroma.
Grown Alchemist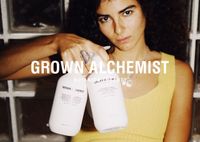 Grown Alchemist is the latest generation of organic skin care from Australia and already the insider tip in the beauty scene. The brand promises beautiful skin thanks to the pure power of nature. Grown Alchemist combines unique formulas with some of the most effective anti-aging plant extracts in soothing balms, serums, elixirs and creams for the face, body and scalp. The products contain certified organic ingredients on a pure plant basis and natural power agents, which provide for a better beauty effect without the addition of harmful artificial chemicals and preservatives ...More
Show more from Grown Alchemist
show all from Grown Alchemist