P.F. Candle Co.
Sunset Collection – Swell Hand & Body Wash – 236ml
Hand & Bodywash
12pm – Salty skin, steady tides, endless afternoons in the hot summer sun. Vibrant, juicy, aquatic.
This gentle and effective cleanser based on a plant-based Castile soap and fine fragrance oils leaves the skin lightly fragranced and the mind a bit clearer. Castile is both versatile and biodegradable, made from vegetable and other plant-based oils that won't strip away the skin's natural oils. Formulated first for the hands but suitable for the entire body, this collection is made without animal-derived ingredients and is packaged in recyclable glass bottles to fit right in with any home decor.
Notes: Black Currant, Tuberose, Sea Moss
Suitable for: All skin types
To be used as: Hand Wash, Body Wash
P.F. Candle Co.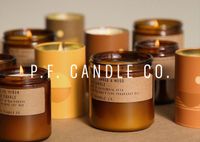 P.F. Candle Co., born Pommes Frites, is a Los Angeles-based fragrance company owned and operated by wife-and-husband team Kristen Pumphrey and Thomas Neuberger. The line is meant to make life smell better through candles, reed diffusers, room sprays, incense, and eau de parfum. The company was founded by Kristen in 2008. She lost her job when the recession hit, and relocated to Austin with the dream of making things by hand to pay the bills. The P.F. Candle Co. signature amber jar line was launched in 2012 after hours spent on the craft fair circuit and another cross-country move ...More
Show more from P.F. Candle Co.
show all from P.F. Candle Co.