This product is currently not available.
Please inform me as soon as the product is available again.
The coastal forests of California and Cascadia are a small part of a massive temperate rainforest (the largest in the world!) that extends from central California all the way to Alaska. Warmed in winter by Pacific storms and cooled in summer by blankets of fog, thick stands of douglas fir, redwoods, hemlock and cedar grow in primordial forests, the ground carpeted with ferns and lichens. Farther down the coast chaparral, cyprus and pine forests dot the landscape.
This cleansing and refreshing body wash transforms daily grooming into a refined bathing ritual. Combined with characteristic steam-distilled essential oils and saponified organic oils, it evokes a flair of wild, natural places. The concentrated natural soap is versatile and can be used both as a shower gel and hand wash, transforming your own four walls into pure nature.
Suitable for: All skin types
To be used as: Body wash, hand wash
Juniper Ridge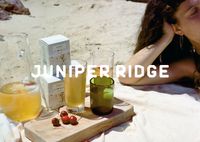 Juniper Ridge formulates Wilderness Perfume by distilling and extracting fragrance from wildflowers, plants, bark, moss, mushrooms, and tree trimmings that they harvest on the trail. All of their products are named for the wild places they come from. The company is built on the simple idea that nothing smells better than the forest and that the only way to bring this beauty home is to first strap on your boots and go there. All Juniper Ridge products are 100% wildcrafted and produced using old perfume making techniques including distillation, tincturing, infusion and enfleurage ...More
Show more from Juniper Ridge
show all from Juniper Ridge