HAAN
Dew of Dawn – Hand Sanitizer
Hand Sanitizer
This product is currently not available.
Please inform me as soon as the product is available again.
An on-the-go hand sanitizer with fresh aromas, fast absorption and high effectiveness. Thanks to the innovative pocket design and easy application, the disinfectant spray is perfect for everywhere. Besides killing 99.99% of germs and bacteria, it is particularly effective against enveloped viruses. These include typical influenza viruses and also the corona virus. Thanks to the reusable packaging, the disinfection spray can be refilled with the matching HAAN Refill Packs.
Suitable for: All skin types
To be used as: Hand sanitizer
HAAN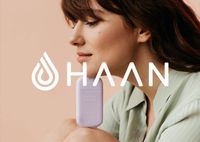 HAAN is a life project of Eric Armengou and Hugo Rovira, which began as an idea in 2017 and was realized in Barcelona in 2018. The two managing directors were already very successful in the fashion business when they decided to make the leap from fashion to skin care in order to shake up the market with a business model that combines economic and social aspects. Their claim defines a social commitment in an outdated industry that has lost sight of people and their environment. Thus, Eric and Hugo conceived an innovative approach to the cosmetics industry ...More
show all from HAAN