A refreshing face cleanser that gently cleanses, exfoliates and doesn´t dry out skin.
Cleanses and exfoliates without drying or irritating
Gentle on sensitive skin
Healing qualities for acne-prone and sore skin
Antibacterial and preventive regarding breakouts and blackheads
Leaves your face feeling fresh and looking bright
Vegan
Key ingredients: Tamanu Oil and Bentonite Clay are well known for their antibacterial and healing qualities – great for fighting acne and inflammations. Peppermint Oil is rich in vitamins and has great antiseptic qualities while Willow Bark gently exfoliates and protects against inflammations.
Scent: Peppermint Oil creates a natural, invigorating minty aroma.
Triumph & Disaster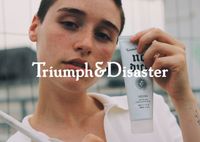 Triumph & Disaster aus Neuseeland ist eine moderne Apotheke und Hautpflege-Manufaktur, deren Produkte sich an den Säulen Ritual, Charakter und Schicksal orientieren. Gründer ist Dion Nash, ein ehemaliger Cricket-Profi, der die Marke nach dem Gedicht "IF" von Rudyard Kipling benannte, das er als Kind von seinem Vater bekam. Jedes Produkt hat einen maßgeschneiderten, natürlichen Duft, der an frühere Werte aus alten Zeiten erinnert. Die Philosophie ist es, effektive, sichere und nachhaltige Produkte mit Hilfe modernster Wissenschaft und den besten natürlichen Wirkstoffen zu ...Mehr
Show more from Triumph & Disaster
show all from Triumph & Disaster