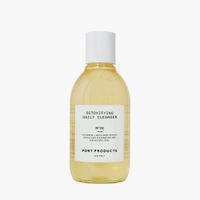 This product is currently not available.
Please inform me as soon as the product is available again.
A mild face cleanser that gently cleanses and exfoliates without drying out the skin.
Delicately removes dirt, excess oil and bacteria
Deeply purifies pores without drying effect
Healing qualities for broken and sore skin
Antibacterial and preventive regarding breakouts and blackheads
Vegan
Key ingredients: Yucca Root Extract, Tea Tree Oil and Glycolic Acid are anti-inflammatory, soothe and moisturize the skin. Aloe Vera and Oat Extract moisturize and reduce fine lines and wrinkles.
Scent: An essential oil blend of Peppermint, Rosa Damascena Flower, Orange, Tea Tree, Lavender and Spearmint - an uplifting minty aroma with slight tea tree tones.
Port Products
Port Products is all about uncomplicated skincare solutions. They are here to take the stress out of your morning routine with effective basics. By collecting customer opinions through emails, chats, reviews, and any other type of feedback regarding other products on the market, the team behind Port Products began to develop the most effective line of skin care and hair styling products.
According to them, living in Los Angeles is great, but at the same time, there is nothing that destroys the skin like city smog and sun rays ...More
Show more from Port Products
show all from Port Products