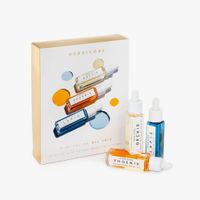 This product is currently not available.
Please inform me as soon as the product is available again.
Mini Facial Oil Trio by Herbivore Botanicals is a limited collection of three facial oils that can be mixed and combined to address the skin´s individual needs and treat in this way all skin problems. Only available for a short time.
Phoenix Facial Oil (8ml): Renew your skin with a blend of luxe botanical oils and CoQ10. Phoenix Facial Oil re-hydrates and revitalizes dry skin or any skin in need of replenishment and deep renewal.
Orchid Facial Oil (8ml): A high-quality anti-aging face oil, that hydrates and gives skin a bright youthful glow.
Lapis Facial Oil (8ml): Lapis Facial Oil is named for the precious blue oil it contains, Blue Tansy. This oil holds a component called Azulene which aids in soothing dry irritated skin, reducing the appearance of redness and balancing skin.
Herbivore Botanicals
Herbivore Botanicals from the USA is a 100% vegan and natural skin care company. In summer 2011, Julia, a graduate in Naturopathy, who is experienced with herbal and aromatherapy and Chinese medicine, founded the company with her husband Alex, who is responsible for design and photography, in their cuisine. All products are handmade, luxurious, contain only effective, vegan and natural ingredients that have been used in ancient times as a remedy, are cruelty free, free of parabens, mineral oils, preservatives, fillers, artificial colors and any other unhealthy chemicals.
Show more from Herbivore Botanicals
show all from Herbivore Botanicals