Hourless driving through California. Ethereal days spent at iconic locations, this "Soft Focus" collection views vignettes of P.F. Candle´s home state California through a dream-like lens. Vivid, yet hazy, but most importantly wild and free.
In Electric Surf the waves crash ashore while the moon´s reflection dances on the water. Balmy evenings on the beach with a crackling bonfire, the scent of jasmine dancing in the warm air. Ozonic, marine, fresh and smoky. Crashing waves, coastal jasmine, beach bonfires and patchouli, California coast in a bottle.
These Standard Size candles are hand-poured into custom frosted jars with white label and a black brass lid. This is the most-popular size and is meant for dressers, countertops, nightstands – basically everywhere with a 40-50 hours burn time.
Top Notes: Marine Air, Kelp, Sea Minerals
Heart Notes: Coastal Jasmin, Cannabis, Ocean Salt
Base Notes: Bonfire Smoke, Crushed Shells, Tonka, Patchouli
P.F. Candle Co.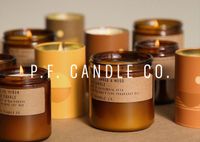 P.F. Candle Co., born Pommes Frites, is a Los Angeles-based fragrance company owned and operated by wife-and-husband team Kristen Pumphrey and Thomas Neuberger. The line is meant to make life smell better through candles, reed diffusers, room sprays, incense, and eau de parfum. The company was founded by Kristen in 2008. She lost her job when the recession hit, and relocated to Austin with the dream of making things by hand to pay the bills. The P.F. Candle Co. signature amber jar line was launched in 2012 after hours spent on the craft fair circuit and another cross-country move ...More
Show more from P.F. Candle Co.
show all from P.F. Candle Co.