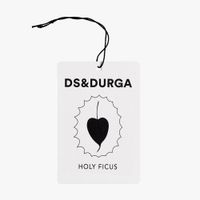 This product is currently not available.
Please inform me as soon as the product is available again.
The revered fig tree of Siddhartha and Lord KṚṢṆA. A loose fantasy based on the fig tree Bodhi, sacred in India. The beguiling, sweet green scent of fig meets spicy cardamom, leathery earthy saffron, woody tangy incense and hot ginger root. The room fills with Indian spices, fruits and the faded memory of something larger.
This irresistibly creative and transcending Auto Fragrance truly enlivens and enchants any space. For your car, the wardrobe, the bus and even your submarine.
Top Notes: Cardamom, Frankincense
Heart Notes: Fig, Cedar
Base Notes: Ginger Root, Saffron
D.S. & Durga
D.S. & Durga is a Brooklyn-based brand whose fragrances tell stories that transport you to faraway places. Each fragrance is a fragment of half-remembered myths of pioneers, frontierswomen and cowboys, imaginary landscapes, saloons and workbenches that invite discovery. According to the founders, the art of a perfume lies not only in the quality but also in the handling of the individual components. D.S. stands for David Seth Moltz, who taught himself how to make perfume. He lives his passion for transforming musical and literary spaces into fragrances ...More
Show more from D.S. & Durga
show all from D.S. & Durga