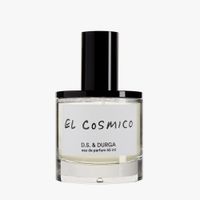 This product is currently not available.
Please inform me as soon as the product is available again.
El Cosmico is a warm, woody and at the same time green scent, like an escape into the heatwave of the desert. In the top note, fresh pine embedded in warm, aromatic pepper persuades, while the skin is surrounded by a warm desert wind and a powerful mixture of dry sand, exotic desert plants and fossil fuel lies in the air. This fragrance is a tribute to El Cosmico, a hotel and campsite in Marfa, Texas. Its fascinating mixture of bright, shimmering, exotic desert plants with their rough edges are incomparable.
Top Notes: Desert Shrubs, Desert Pepper, Pinyon Pine
Heart Notes: Creosote, Oak
Base Notes: Dry Sand Accord, Khella, Shrub Wax
D.S. & Durga
D.S. & Durga is a Brooklyn-based brand whose fragrances tell stories that transport you to faraway places. Each fragrance is a fragment of half-remembered myths of pioneers, frontierswomen and cowboys, imaginary landscapes, saloons and workbenches that invite discovery. According to the founders, the art of a perfume lies not only in the quality but also in the handling of the individual components. D.S. stands for David Seth Moltz, who taught himself how to make perfume. He lives his passion for transforming musical and literary spaces into fragrances ...More
Show more from D.S. & Durga
show all from D.S. & Durga