Nuori
Sideway Travel Case Set – Black
Dopp Kit
This product is currently not available.
Please inform me as soon as the product is available again.
A set of two elegant, vegan cosmetic bags that can be held together by hidden magnets. Combining beautiful Scandinavian design with a premium feel and exceptional durability, this is a classic beauty case set, reimagined for the modern traveler. The solid bag can be used as a multifunctional clutch, while the transparent one doubles as an internationally approved air travel liquids container.
Nuori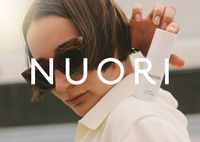 By applauding the power of freshness, Nuori introduces a new generation of skincare products with the highest level of efficacy and purity for today's uncompromising customers. Freshness allows them to create pure and 100% natural products, completely free of synthetic additives that artificially prolong the shelf life of skincare formulas. Freshness also ensures peak efficacy, as active ingredients are not weakened by time-related breakdown. To guarantee that Nuori products are the freshest on market, the products are freshly blended in small batches ...More
show all from Nuori