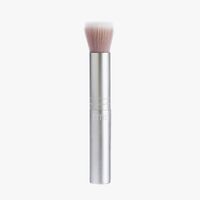 The skin2skin blush brush has been designed with dual technology and has ultra-soft bristles on the tip to ensure that just the right amount of color is picked up from your RMS Beauty lip2cheek pot.
RMS Beauty skin2skin brushes are created with high-end, synthetic fibers and have been expertly designed to mimic skin to skin makeup application. Because of the expertly placed bristles using dual technology, this brush effortlessly blends blush and bronzer onto the skin, pressing color into the skin rather than laying on top of the face.
When applied, it gives a beautiful "airbrush effect" that does not pick up foundation already on the face. It deposits an even, professionally blended blush or bronzer to the skin.
RMS Beauty
Rose-Marie Swift had been working as a well-known make-up artist with famous models, photographers and fashion magazines for many years, when she suddenly had to deal with serious health problems. During her healing process and intensive research she discovered that some of the toxic chemicals and heavy metals in her body were also due to common beauty products she used daily. After restoring her own health, Rose-Marie wanted to help other women claim their right to healthy, natural beauty and created the first truly clean makeup line of its kind ...More
Show more from RMS Beauty
show all from RMS Beauty