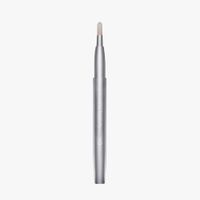 A secret weapon for sensuously highlighting those special little features on the face.
This delicate, retractable brush can be used with RMS Beauty luminizers to highlight the inner eye corners (near the L-shaped tear duct), down the bridge of the nose (for the appearance of a longer, slimmer nose) and the bow of the lips (to give the illusion of a sexy, pouty mouth). It also pairs perfectly with the RMS Beauty vintage cake liner.
This brush helps to precisely reach those intimate locations on your face that otherwise may be hard to reach with fingers alone.
RMS Beauty
Rose-Marie Swift had been working as a well-known make-up artist with famous models, photographers and fashion magazines for many years, when she suddenly had to deal with serious health problems. During her healing process and intensive research she discovered that some of the toxic chemicals and heavy metals in her body were also due to common beauty products she used daily. After restoring her own health, Rose-Marie wanted to help other women claim their right to healthy, natural beauty and created the first truly clean makeup line of its kind ...More
Show more from RMS Beauty
show all from RMS Beauty