Wienerblut
Therion – Eau de Parfum – Sample
Eau de Parfum
(€3,933.33 / 1 l)
Prices incl. VAT plus shipping costs
In stock
Delivery within 1–3 Days
Vegan
Less waste
Travel-size
A dark, spicy warmth reveals the presence of the great beast – Typhon, or Typhoeus, once ruled the deepest realms of Hades.
This olfactory representation of Gustav Klimt's Beethoven Frieze – a monumental, 34-meter-long painting cycle, in honor of Ludwig Van Beethoven – tells the story of the painting's central page, representing the "hostile forces" through Tyhpon and his daughters. Therion, Greek for "wild animal" or "beast", is a captivating fragrance that combines a unique blend of notes to create a truly mesmerizing experience, just as staring at Gustav Klimt´s work. Opening with the refreshing and citrusy aroma of bergamot, your attention gets grabbed immediately. The addition of bay leaf and black pepper adds a subtle spiciness, while carrot seed brings a touch of earthiness to the composition. As the fragrance develops, the delicate scent of chamomile blue and the smoky essence of cade intertwine, creating a harmonious balance. The inclusion of violet adds a floral touch, while sandalwood and amber provide a warm and grounding base. To add depth and complexity, cypriol and musk are incorporated, leaving a lingering and alluring trail that captivates the senses. Therion, like Klimt's masterpiece, is a work of art in itself. Its intricate blend of notes evokes a sense of mystery and elegance, making it the perfect choice for those seeking a fragrance that is both unique and enchanting, yet comforting.
The second side of the story is told through Elysion – a bright, green scent full of pure joy.
Notes: Bergamot, Bay Leaf, Carrot Seed, Black Pepper, Chamomile Blue, Cade, Violet, Sandalwood, Amber, Cypriol, Musk
Wienerblut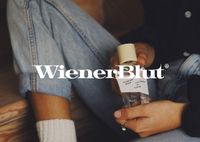 WienerBlut was founded in 2008 in Vienna by Alexander Lauber. Lauber spent much time in antique shops, at flea markets and in the archives of the Hofburg to find and collect information about perfume from Vienna at the time of K.u.K. Reich and also acquired, among other things, old cosmetics sets owned by the Habsburg family. WienerBlut believes that great fragrances are like treasured secrets, giving the most pleasure to those who carry them. The formulas are built to whisper, not to shout. Listen carefully to the stories they tell. They love the complexity of natural raw materials ...More
Show more from Wienerblut
show all from Wienerblut