Salt & Stone
Natural Deodorant Gel – Bergamot & Hinoki (Sensitive Skin)
Deodorant
A natural and aluminum-free deodorant stick without baking soda. Essential oils and herbal extracts provide a pleasant, long-lasting freshness, combat bacteria and help against unpleasant body odor. This clear formula glides on completely residue free, leaving no stains. Hyaluronic Acid moisturizes the skin while probiotics help neutralize odor. Bergamot and Hinoki provide a pleasant citrus freshness.
Top Notes: Italian Bergamot, Grapefruit
Heart Notes: Hinoki, Vetiver
Base Notes: Eucalyptus, Amber, Orange Blossom
Suitable for: All (also sensitive) skin types
To be used as: Deodorant
Salt & Stone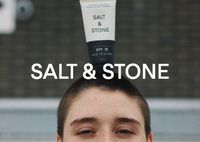 Salt & Stone creates essential skincare products, developed especially for all who are called to explore, escape, and revel in their experiences. The brand never compromises, and uses only the finest plant-based, natural, non-toxic, and antioxidant rich ingredients. The result is a superior collection of products that optimize your body and enhance your daily journey.
Show more from Salt & Stone
show all from Salt & Stone