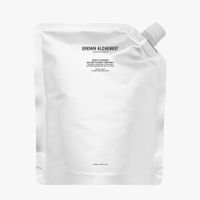 Grown Alchemist
Refill – Body Cleanser: Geranium, Tangerine, Cedarwood 500ml
Body Wash
This product is currently not available.
Please inform me as soon as the product is available again.
A convenient 500ml refill pouch of the Grown Alchemist body wash to easily refill your bottle at home, so that you never run out again. Thanks to the reduced packaging and the lower CO2 emissions during transport, this refill pack is a more sustainable alternative.
Cleanse, calm and nourish without stripping or drying out the skin, as plant-based ingredients derived from coconut oil and aloe leave skin refreshed and moisturized. A botanical blend - including black pepper and geranium - purifies, gently exfoliates and keeps skin in balance. Infused with clary sage, lavender, cedarwood and other soothing natural ingredients, this natural body wash calms the skin and relaxes the mind. The bioactive botanicals are rich in vitamins E, C and antioxidants to give skin a fresh, healthy glow while protecting skin from environmental aggressors. The skin feels soft, smooth, soothed and revitalized.
Suitable for: All skin types
To be used as: Body Wash
Grown Alchemist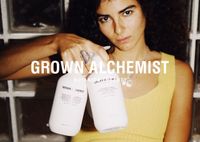 Grown Alchemist is the latest generation of organic skin care from Australia and already the insider tip in the beauty scene. The brand promises beautiful skin thanks to the pure power of nature. Grown Alchemist combines unique formulas with some of the most effective anti-aging plant extracts in soothing balms, serums, elixirs and creams for the face, body and scalp. The products contain certified organic ingredients on a pure plant basis and natural power agents, which provide for a better beauty effect without the addition of harmful artificial chemicals and preservatives ...More
Show more from Grown Alchemist
show all from Grown Alchemist