(€129.00 / 1 kg)
Prices incl. VAT plus shipping costs
In stock
Delivery within 1–3 Days
Available in Store
Vegan
Less waste
Travel-size
This soap bar is perfect for normal to dry skin. It soothes, smoothes and moisturizes, making it ideal for mature or stressed skin. High quality Vegetable Oils in combination with Shea Butter and Spinach let the skin glow naturally.
Key Ingredients: Grape Seed Oil soothes skin irritations, has a regenerating effect and provides lasting moisture.
Scent: A light fruity scent of lemon and bay leaf.
Suitable for: Normal to dry or mature skin.
To be used as: Face & body soap.
Skin feel: Clean, smoothed, moisturized.
Texture: Well-foaming soap bar.
Made in: Germany.
Packaging: Paper.
terrorists of beauty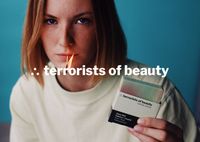 Summer 2018, a bottle of wine in a shared flat in Hamburg and plastic waste in the bathroom. Thus was born the idea of plastic-free care alternatives by Mar Navajas Garcia and Natalie Richter. The two brains behind Terrorists of Beauty were already testing plastic-free alternatives available on the market, when they came up with the idea: A better and more convincing solution is needed to get as many people as possible to see bar soap as a real, effective alternative to conventional skin care products. The fight against the outdated standards of the globalized beauty industry began ...More
Show more from terrorists of beauty
show all from terrorists of beauty