Merme Berlin
Advanced Eye Therapy – 100% Organic Prickly Pear Oil
Eye Serum
(€3,790.00 / 1 l)
Prices incl. VAT plus shipping costs
In stock
Delivery within 1–3 Days
Available in Store
Vegan
Less waste
Travel-size
PROMO
Purchase Merme products for 50 euros or more and select a free Facial Antioxidant Mist during checkout.*
*As long as supply lasts and it is visible during checkout.
This cold-pressed and gentle yet highly nourishing organic prickly-pear cactus roll-on oil is rich in antioxidants to brighten the under-eye area and promote skin elasticity, reducing signs of ageing, puffiness, dark circles, and spider veins caused by poor blood flow and broken capillaries as well as damage done by free radicals. The skin is left feeling moisturized, regenerated, strenghtened, and more supple.
Suitable for: All skin types
To be used as: Hydrating eye serum
Merme Berlin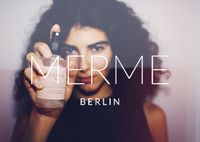 In 2016, Australian-born Claire Ralston launched MERME Berlin out of her passion for Clean Skincare, which arose during her studies at the Australian College of Natural Beauty. There she was particularly interested in the effectiveness of non-invasive and natural beauty methods. When she moved to Berlin in 2014, she couldn't find good, organic skincare that gave her the healthy glow she wanted. So she started sourcing the good ingredients herself - MERME was born. Merme was Claire's grandmother's name, who lived on a cattle farm in northern New South Wales, Australia ...More
Show more from Merme Berlin
show all from Merme Berlin