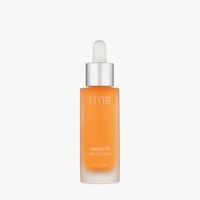 (€2,396.67 / 1 l)
Prices incl. VAT plus shipping costs
In stock
Delivery within 1–3 Days
Available in Store
Vegan
Less waste
Travel-size
A beauty oil the way it should be: pure, simple and organic.
Lightweight yet highly concentrated, this multi-purpose beauty oil contains only the finest exotic oils and rare herbal extracts to boost skin radiance, provide antioxidant protection, and keep skin feeling hydrated for up to 12 hours.
This potent formula is the perfect balance between skin and oil, providing the ultimate absorption and radiance enhancing moisture for supple skin and a complexion that glows.
RMS Beauty
Rose-Marie Swift had been working as a well-known make-up artist with famous models, photographers and fashion magazines for many years, when she suddenly had to deal with serious health problems. During her healing process and intensive research she discovered that some of the toxic chemicals and heavy metals in her body were also due to common beauty products she used daily. After restoring her own health, Rose-Marie wanted to help other women claim their right to healthy, natural beauty and created the first truly clean makeup line of its kind ...More
Show more from RMS Beauty
show all from RMS Beauty