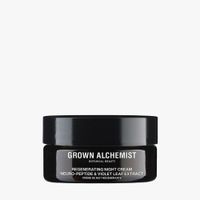 Grown Alchemist
Regenerating Night Cream: Neuro Peptide & Violet Leaf Extract
Night Cream
(€2,347.50 / 1 l)
Prices incl. VAT plus shipping costs
In stock
Delivery within 1–3 Days
Available in Store
Vegan
Less waste
Travel-size
A rich night cream formulated with potent regenerating peptides and antioxidants that noticeably reduce the appearance of fine lines transforming skin texture.
Soothes and smoothens the skin
Less fine lines and wrinkles and firmer skin
Anti-aging effect - combats wrinkles
Refined skin tone
Revitalized, even and regenerated skin
Vegan
Key ingredients: Neuro-Peptides assist enhancing Collagen Type IV and Collagen Type I synthesis while noticeably increasing Elastin levels providing visible structure, firmness, tone and preventing sagging of the skin and visibly reducing the appearance of fine lines and wrinkles. Neuro-Peptides also noticeably increase cohesion and stabilisation of collagen networks while reducing degradation of Collagen structure which ultimately increases skin suppleness, visibly reducing wrinkles. Glycoproteins assist with skin fibroblast repair while Boswellic acid from Frankincense calms and soothes. Rutin and Salicylate from Violet clear and even out skin tone. Green Tea Extract rich in Flavonoid and Polyphenol Antioxidants fight free radicals diminishing the appearance of fine lines and wrinkles. Rare Omega 7 from Sea-Buckthorn Berry noticeably rejuvenates skin stimulating the natural healing process, fighting off free radicals supporting the skins elasticity. Bio-ferment Hyaluronic Acid provides maximum hydration, smoothing the skin's appearance and magnifying the absorption of other organic active principles noticeably restoring youthful skin features.
Scent: A fresh and subtle unisex aroma.
Grown Alchemist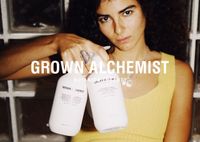 Grown Alchemist is the latest generation of organic skin care from Australia and already the insider tip in the beauty scene. The brand promises beautiful skin thanks to the pure power of nature. Grown Alchemist combines unique formulas with some of the most effective anti-aging plant extracts in soothing balms, serums, elixirs and creams for the face, body and scalp. The products contain certified organic ingredients on a pure plant basis and natural power agents, which provide for a better beauty effect without the addition of harmful artificial chemicals and preservatives ...More
Show more from Grown Alchemist
show all from Grown Alchemist