This product is currently not available.
Please inform me as soon as the product is available again.
A highly effective, pure botanical body oil which nourishes and heals the body, provides deep hydration and prevents premature aging.
Hydrates, nourishes and protects skin
Non-greasy – light on the skin and easily absorbed
Prevents premature aging
Promotes cell regeneration and repair
Promotes smooth, healthy looking skin
Vegan
Key ingredients: Essential fatty acids, Omega 6 & 9 and Antioxidants from Tamanu Oil visibly restore skin softness, suppleness and revitalise the skin's appearance. Age spots, stretch marks and scars are noticeably improved. Omega 7 Palmitoleic Acid from Sea-Buckthorn Berry leave the skin looking well hydrated, toned and supple. Polyphenols contained in Camellia Seed Oil visibly improve hydration and condition the skin, while free radical fighting Antioxidants found in Rosehip Oil leave skin looking radiant.
Scent: A pleasant floral, spicy and subtle unisex aroma of Ylang Ylang, Sandalwood and Bergamot.
Grown Alchemist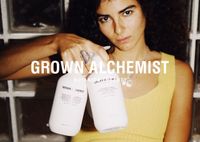 Grown Alchemist is the latest generation of organic skin care from Australia and already the insider tip in the beauty scene. The brand promises beautiful skin thanks to the pure power of nature. Grown Alchemist combines unique formulas with some of the most effective anti-aging plant extracts in soothing balms, serums, elixirs and creams for the face, body and scalp. The products contain certified organic ingredients on a pure plant basis and natural power agents, which provide for a better beauty effect without the addition of harmful artificial chemicals and preservatives ...More
Show more from Grown Alchemist
Grown Alchemist Blemish Treatment Gel

Anti Blemish Treatment Gel

Content

(€2,460.00 * / 1 l)

Grown Alchemist Smoothing Hair Treatment: Hydrolyzed Milk...

Hair Treatment

Content

(€189.50 * / 1 l)

Grown Alchemist Refill – Hand Wash: Cedarwood Atlas, Ylang...

Hand Wash

Grown Alchemist Anti-Oxidant+ Facial Oil: Borago, Rosehip &...

Face Oil

Content

(€2,076.00 * / 1 l)

Grown Alchemist Hydra-Repair Treatment Cream: Camellia,...

Night Cream

Content

(€1,664.44 * / 1 l)

Grown Alchemist Detox – Shampoo 0.1: Hydrolyzed Silk Protein,...

Hair Shampoo

Content

(€129.50 * / 1 l)

Grown Alchemist Age-Repair Intensive Moisturiser: White Tea,...

Face Moisturizer

Content

(€2,222.50 * / 1 l)

Grown Alchemist Healthy Hands Kit: 2 x Hydra-Gel Hand Sanitiser...

Hand Sanitizer-Kit

Grown Alchemist Roll-On Deodorant: Icelandic Moss Extract, Sage...

Roll-On Deodorant

Content

(€538.00 * / 1 l)
show all from Grown Alchemist