Standard Procedure are best known for their SPF 50+ Sunscreen formula. Their formula, which was developed in their family factory over the course of 40 years, has been refined throughout time. Thier reef friendly SPF 50+ is a powerhouse sunscreen designed to withstand the toughest elements and is water resistant for four hours. Its clean, fast absorbing and non greasy formulation as well as the added Australian superfruits with antioxidants and vitamins A, B and C make the cream the perfect formula for everyday wear on your face, body or children. This practical travel size can be taken anywhere thanks to the black carabiner and refilled as desired.
Suitable for: All skin types, even sensitive skin
To be used as: Daily sunscreen
Standard Procedure.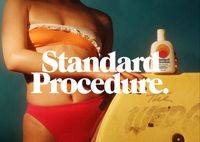 Standard Procedure is the ultimate sun and skin care line for summer feelings. It was developed under the scorching Australian sun to endure even the toughest elements. Inspired by sun-kissed days gone by, Standard Procedure focuses on delivering high-quality, protective sun care products against a backdrop of nostalgic surf explorations along Australia's magical coastlines. Founded by two friends, Dion Agius, a professional surfer who grew up on the beach and in salt water, and Zepha Jackson, the daughter of a longtime sunscreen manufacturer, Standard Procedure combines the knowledge ...More
Show more from Standard Procedure.
show all from Standard Procedure.