P.F. Candle Co.
Red Nutmeg & Peppercorn – Limited Soy Candle Standard Size
Scented Candle
A fireside mulled wine adorned with dried citrus garlands to celebrate the season with loved ones. With amber wood, crushed spices and winter berries, Red Nutmeg & Peppercorn soothes the spirit while tickling the senses.
This limited edition Winter Classics collection features green glass vessels and matching labels with gold foil embossing for a luxe look to match these joyous scents. The hand-poured candle is meant for dressers, countertops, nightstands – basically everywhere with a 40-50 hours burn time, and makes the perfect gift.
Top Notes: Warm Cardamom, Crushed Peppercorn, Spiced Orange
Heart Notes: Cashmere, Holiday Berries, Apple Blossom, Clove
Base Notes: Patchouli, Red Nutmeg, Amber Woods, Cinnamon Bark
P.F. Candle Co.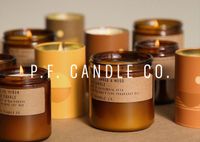 P.F. Candle Co., born Pommes Frites, is a Los Angeles-based fragrance company owned and operated by wife-and-husband team Kristen Pumphrey and Thomas Neuberger. The line is meant to make life smell better through candles, reed diffusers, room sprays, incense, and eau de parfum. The company was founded by Kristen in 2008. She lost her job when the recession hit, and relocated to Austin with the dream of making things by hand to pay the bills. The P.F. Candle Co. signature amber jar line was launched in 2012 after hours spent on the craft fair circuit and another cross-country move ...More
Show more from P.F. Candle Co.
show all from P.F. Candle Co.