Frama
St. Pauls – Scented Candle
Scented Candle
This product is currently not available.
Please inform me as soon as the product is available again.
St.Pauls - Scented Candle leads us directly to Frama, to the character, to the origin, to the St.Pauls Pharmacy (1878), the present Frama Studio. The notes of lemongrass, cedar wood and sandalwood, preserve this earthy and deep formulation, a promise, an unmistakable freshness, which embodies the epitome of Frama. Wooden cabinets and amber glass. Past and present intertwined seamlessly. The St. Pauls - Eau de Parfum develops into a distinctive individual fragrance - individual, natural and special like the St. Pauls Pharmacy itself.
Top Notes: Lemongrass, Bergamot
Heart Notes: Coriander, Roman Chamomile, Lavender
Base Notes: Mysore Sandalwood, Vetiver, Cedarwood, Olibanum
30-40 hours burning time
Made in Italy and Denmark
Vegetable oil wax candle
Black tinted glass, wooden lid
Frama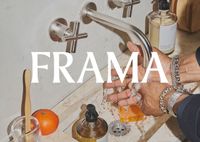 Frama is a multidisciplinary design brand based in Copenhagen. Their aim is to create lifestyle objects that inspire the sense and facilitate a mindful life. They want to achieve all this with natural materials, simple geometries and uncompromising quality. Their result - a work that combines the imaginative with the practical, creating a unique warm and honest aesthetic. Since 2011, Frama has been pursuing an expanded design approach; an approach that is equally inspired by old and new, digital technologies and analogue traditions ...More
show all from Frama