Bon Parfumeur
106 Eau de Parfum – Rose Damascena, Davana, Vanilla – 15ml
Eau de Parfum
(€1,926.67 / 1 l)
Prices incl. VAT plus shipping costs
In stock
Delivery within 1–3 Days
Available in Store
Vegan
Less waste
Travel-size
Intoxicating and smooth, the Damascena rose radiates throughout this fragrance while a twist of pink pepper brings a touch of freshness. Afterwards the velvet-touch rose petals combine with the musky and vanilla notes of this creation to reveal this soft and silky, yet fresh and crisp rose scent.
To go further in their search for naturalness and to get closer to the smell of a natural garden rose, Bon Parfumeur have used recycled ingredients. This rose therefore offers a greener and crisper fragrance and complements the essential oil of the Damascena rose.
All fragrances from Bon Parfumeur can be mixed together or "layered". For this you can, depending on the desired intensity, spray the in the product description recommended combination on top of each other with the actual fragrance. This perfume combines particularly well with 203 for a fruity-floral note, with 601 for a softened, more woody scent, or with 101 for the ultimate rose fragrance.
Top Notes: Damascene Rose, Pink Pepper, Ambrette Seed
Heart Notes: Davana, Rose Essential TM, Papyrus
Base Notes: Vanilla, Balsam of Peru, Sandalwood
Bon Parfumeur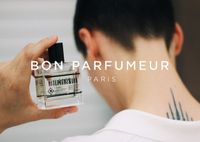 Be your own perfumer thanks to Bon Parfumeur's Mix & Match. For two years, Ludovic Bonneton, a passionate collector and perfume lover, worked with renowned fragrance experts to develop fragrance creations from the various fragrance families. The line was created to fulfil fragrance lovers' long-held desire to create their own scent according to their own whim.
Developed in France, the unisex fragrances stand on their own, yet invite you to mix and match to create creative new creations and leave your own personal scent trail ...More

Show more from Bon Parfumeur
show all from Bon Parfumeur