CRA-YON
Caramel Days – Eau de Parfum – 50ml
Eau de Parfum
This product is currently not available.
Please inform me as soon as the product is available again.
Welcome to the sweet life – Caramel Days is inspired by the sweet moments in life that make us stop, breathe and engage every sense. The sound of birds chirping in the morning sun, laughing with friends so hard your sides ache, the feeling of grass and soil between your toes. Someone stopping you in the street to tell you that you smell good. Caramel Days is a grounding scent that empowers you, opening with cosy notes of caramel, before blossoming into a soft citrus blend of Brazilian orange and mandarin. Subtle notes of tropical coconut, jasmine and cacao lend sensual warmth that round out this feel-good, sunshine-in-a-bottle fragrance.
Top Notes: Coconut, Brazilian Orange, Italian Mandarin
Heart Notes: Frangipani, Jasmine Egypt, Heliotrope
Base Notes: Vanilla, Ambroxan, Cacao
CRA-YON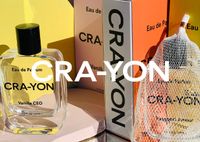 CRA-YON is a perfume brand from Sweden that wants to wake up all the sleeping noses of the world and inspire all to discover the difference between a good and a great perfume. The team behind CRA-YON has been creating award winning perfumes for over 12 years in the luxury perfume business and now, with extensive experience, they are looking to modernise the quality perfumery. According to them, a great perfume is not about a celebrity face or the one who made it, but rather about how it triggers your memories and your wellbeing when worn. The sense of smell is our most powerful sense ...More
show all from CRA-YON