Wienerblut
Elysion – Eau de Parfum – 100ml
Eau de Parfum
(€2,100.00 / 1 l)
Prices incl. VAT plus shipping costs
In stock
Delivery within 1–3 Days
Available in Store
Vegan
Less waste
Travel-size
A fragrance as intangible as Klimt´s golden vision of the Elysion Fields – "an ideal realm, wherein alone we can find pure joy, pure happiness, pure love". Elysion wears like a subtle, immaterial cloak of bright light, verdant freshness and subdued florality. This olfactory representation of Gustav Klimt's Beethoven Frieze – a monumental 34-meter-long painting cycle honoring Ludwig van Beethoven – tells the story of the right side of the painting, representing the "ideal realm", full of angels, joy, love and happiness.
Experience the captivating world with Elysion, an exquisite perfume that will enchant your senses with its unique blend of notes. This masterful fragrance combines the refreshing scent of cedrat, the soothing aroma of angelica root, and the delicate essence of fig leaf. As you delve deeper into the fragrance, you'll be greeted by the subtle warmth of red rpepper and the intoxicating allure of mimosa absolute. The floral elegance of water jasmine adds a touch of sophistication, while the mysterious iso E super creates an intriguing aura around you. As the fragrance settles on your skin, the rich and sensual notes of amber and musk emerge, leaving a trail of irresistible allure. The final touch of cedarwood adds depth and a hint of bright yet woody sophistication to this enchanting composition. Elysion is more than just a perfume; it is an olfactory journey that transports you to a realm of pure bliss. With its harmonious blend of notes, this fragrance is designed to evoke feelings of confidence, joy, and elegance.
The other side to this tale is told through Therion, representing the "hostile forces". A dark, spicy warmth reveals the presence of the great beast Typhon, or Typhoeus, who once ruled the deepest realms of Hades.
Notes: Cedrate, Angelica Root, Fig Leaf, Red Pepper, Anis, Mimosa Absolue, Water Jasmin, Iso E Super, Amber, Musk, Cedar
Wienerblut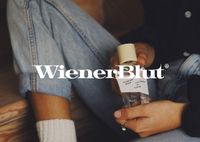 WienerBlut was founded in 2008 in Vienna by Alexander Lauber. Lauber spent much time in antique shops, at flea markets and in the archives of the Hofburg to find and collect information about perfume from Vienna at the time of K.u.K. Reich and also acquired, among other things, old cosmetics sets owned by the Habsburg family. WienerBlut believes that great fragrances are like treasured secrets, giving the most pleasure to those who carry them. The formulas are built to whisper, not to shout. Listen carefully to the stories they tell. They love the complexity of natural raw materials ...More
Show more from Wienerblut
show all from Wienerblut