Son Venïn
Ambr Super – Solid Perfume
Solid Perfume
Eau de Parfum Ambr Super as a solid perfume in wax form with refill option.
Skin-to-skin – Ambr Super from Son Venïn is a pure and clean interpretation of amber and woody notes that balances between the intimacy of a skin perfume and the strength of the warm amber notes with epic ISO E-Super. Inspired by HBO series Euphoria, young Scandinavian skin and the band The Knife, this fragrance plays with our sense of knowing what comes next. Unpredictable and modern, yet sophisticated and slightly traditional.
*If you want to test the fragrance, we recommend ordering a sample of the eau de parfum.
Top Notes: Cardamom
Heart Notes: Plum, Ambrette, Tonka Bean
Base Notes: Ambrox, Cedar Wood, White Oak, Sandalwood, Musk
Son Venïn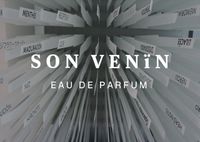 Son Venin was founded in 2016 in in Oslo by the designers of friends Dag Laska and Svein Haakon Lia. Inspired by olfactory memories of Scandinavian and continental heritage, their desire was to create exceptional unisex perfumes. According to them, fragrance is the relationship between you and your spirit, between you and other people, between you and this world. Fragrance is not just smelling, but what happens in your mind. In search of the best fragrance components, they landed in the South of France, where the collaboration with the best and most experienced noses in the world started ...More
show all from Son Venïn