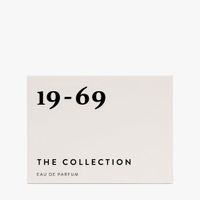 (€3,708.57 / 1 l)
Prices incl. VAT plus shipping costs
In stock
Delivery within 1–3 Days
Available in Store
Vegan
Less waste
Travel-size
This set contains seven of the unmistakable fragrances from 19-69 in pocket size for trying out the fragrances, for on the go, to as a gift. From fresh-clean, to wildly spicy and warm, to earthy-green, this set has a scent for everyone.
This set includes:
Chinese Tobacco (2,5ml): The game of opposites. East meets West, old meets new. Surrounded by a sweet-spicy freshness detached from life. A dreamy warmth of incense, cedarwood and vetiver meets the playful sweetness of vanilla. A harmony of contrasts. Perfection from the most diverse compositions.
Chronic (2,5ml): Chronic is a green, vibrant fragrance – a tribute to cannabis cultivation in Southern California. An unmistakable sense of euphoria is evoked, equal to the success of hemp farmers and hemp enthusiasts in the 90s, who celebrated the first legalisation of medical cannabis at the time. Chronic is just as versatile as its main protagonist – youthful joie de vivre and lightness complimented by a deep, warm sense of well-being. Lively, earthy, green.
Villa Nellcôte (2,5ml): Villa Nellcôte leads onto an estate in Villefranche-sur-Mer, France. A unique mansion hidden behind high iron gates and among fragrant pines and palms. The view looks out over the bay of Villefranche, triggering the weightless feeling of freedom. A refreshing, citrusy fragrance unfolds with floral and aromatic notes of joy. The woody-warm base notes reflect the liberation of a dark time and the creation of one of the most legendary rock albums, which connects even beyond borders and nations. A perfect combination of a dark past and an enchantingly beautiful environment. Refuge and security. Processing and new beginnings.
Female Christ (2,5ml): It embodies the walk of a naked woman with a cross on her back through the Copenhagen Stock Exchange – an art performance from 1969 that will be remembered forever. A warm, earthy, velvety patchouli scent, that is an olfactory adventure through invigorating nuances of spicy-herbal aromas of eucalyptus and pimento. An art that exists while still in the making – earthy and woody with integrity. The most stylish yet provocative arrangement of a patchouli fragrance.
Miami Blue (2,5ml): A lost paradise. A metropolis with deep roots in art and cultural diversity, surrounded by sunshine, white sand and the ocean. Enveloped by a cytric-spicy freshness. In between never-ending parties with gorgeous models, leading actors, legendary artists and champagne baths, a cocaine accord unfolds with aquatic-metallic notes that unveils the heart of Miami. Deep inside, reality illuminates the here and now. The purity of the moment - summed up in Amber Xtreme. Marked by luxury, heat and sea and connected in one human family.
Higher Peace (2,5ml): Higher Peace reveals itself lush-green and open-minded to different and new in notes of aromatic davana, tangy bergamot and spicy cardamom. A soft arrangement of hemp, coumarin and fresh hay soothes the initial excitement of the unfamiliar and gets the fragrance's message across: It's about never stopping learning. To let go, to try to understand each other and thus travel through unknown waters. Vetiver, tobacco, benzoin give an all-around feel-good feeling and deep contentment with oneself and everything around. Higher Peace is a true peace fragrance that clears the mind, expands the senses and makes accessible to new things - fresh, green and yet pleasantly soft.
June 28 (2,5ml): (new name for "Christopher – Eau de Parfum") (2,5ml): An olfactory celebration of the place where pride began. Tart leathery saffron and black pepper tickle the nose and bring to life the passion and energy of this place. It is not the place itself, but the community in this place that makes it so uniquely powerful. Sultry leather rubs against each other, mysterious strangers laugh together, joy resounds through the bustle and everyone is allowed to be there, everyone is welcome. June 28 is an incomparably spicy-warm and smoky fragrance with leathery woody notes and oodles of strength.
19-69 Nineteen Sixty Nine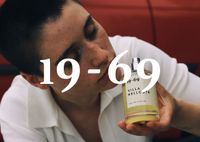 Cosmetic cult brand 19-69 was founded by the Swedish artist and product developer Johan Bergelin. A twenty-four months long creative process with artisans in Scandinavia, France and Italy lead to the launch of 5 perfumes in 2017. Each scent is composed inspired by a different era, culture or setting from Africa, Europe, the States and Asia. Art, music, trends and cultures have all left their marks on the fragrances both in terms of content, name and packaging. All fragrances are suitable for any gender and allow the individual to explore beauty across the borders ...More
Show more from 19-69 Nineteen Sixty Nine
show all from 19-69 Nineteen Sixty Nine