This product is currently not available.
Please inform me as soon as the product is available again.
Female Christ embodies the walk of a naked woman with a cross on her back through the Copenhagen Stock Exchange - an art performance from 1969 that will be remembered forever. A freeze image surrounded by this warm, earthy, velvety patchouli scent, which becomes an olfactory adventure through invigorating nuances of spicy-herbal aromas of eucalyptus and pimento. In its naked honesty, the earthy note meets a sweet and juicy fresh balance of rhubarb and berries. As you step forward, it leaves its legacy, a mysteriously woody and spicy sweetness of amber, cinnamon bark and cashmere wood. An art that exists while still in the making - earthy and woody with integrity. The most stylish yet provocative arrangement of a patchouli fragrance.
Top Notes: Eucalyptus, Patchouli, Pimento
Heart Notes: Rhubarb, Wintergreen, Red Thyme, Geranium
Base Notes: Vanilla, Amber, Benzoin, Cinnamon Bark, Cashmere Wood
19-69 Nineteen Sixty Nine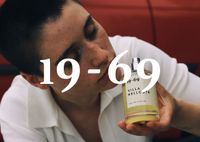 Cosmetic cult brand 19-69 was founded by the Swedish artist and product developer Johan Bergelin. A twenty-four months long creative process with artisans in Scandinavia, France and Italy lead to the launch of 5 perfumes in 2017. Each scent is composed inspired by a different era, culture or setting from Africa, Europe, the States and Asia. Art, music, trends and cultures have all left their marks on the fragrances both in terms of content, name and packaging. All fragrances are suitable for any gender and allow the individual to explore beauty across the borders ...More
Show more from 19-69 Nineteen Sixty Nine
show all from 19-69 Nineteen Sixty Nine