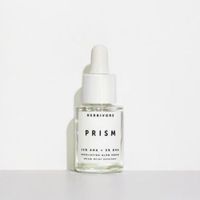 This product is currently not available.
Please inform me as soon as the product is available again.
Prism 12% AHA + 3% BHA Exfoliating Glow Serum by Herbivore Botanicals is a super lightweight botanical serum that exfoliates, hydrates, evens the appearance of your skin tone, smoothes and clarifies. With its 12% blend of natural fruits and herbal AHAs, 3% BHAs and very light texture, a minimal amount is enough to naturally and effectively exfoliate the skin. Thanks to rose hydrosol, aloe water and vegan hyaluronic acid, the skin is soothed and hydrated during exfoliation. The skin appears visibly plumped, smoothed and glowy.
12% AHA Blend (Includes Bilberry Lactic, Sugar Glycolic, and Sugar Maple Malic Acids): Naturally-derived AHAs to gently and effectively exfoliate, reducing the appearance of hyperpigmentation and visibly improving skin tone and texture.
3% BHA: Naturally-derived from Willow Bark Extract to clarify and minimize the appearance of pores.
Rosewater acts as a micro-dose of Rose Essential Oil to soothe, hydrate, and calm without causing sensitization for all skin types.
Vegan hyaluronic acid visibly plumps and hydrates the skin
Scent: A light floral, fruity aroma.
Herbivore Botanicals
Herbivore Botanicals from the USA is a 100% vegan and natural skin care company. In summer 2011, Julia, a graduate in Naturopathy, who is experienced with herbal and aromatherapy and Chinese medicine, founded the company with her husband Alex, who is responsible for design and photography, in their cuisine. All products are handmade, luxurious, contain only effective, vegan and natural ingredients that have been used in ancient times as a remedy, are cruelty free, free of parabens, mineral oils, preservatives, fillers, artificial colors and any other unhealthy chemicals.
Show more from Herbivore Botanicals
show all from Herbivore Botanicals