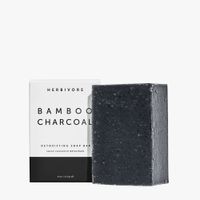 Hand, Face & Body Soap Bar
(€119.47 / 1 kg)
Prices incl. VAT plus shipping costs
In stock
Delivery within 1–3 Days
Available in Store
Vegan
Less waste
Travel-size
A face and body soap bar that deeply purifies pores and removes dirt.
Deep clean while also naturally and gently exfoliating
Cleanses hands, body and face
Delicately removes dirt and absorbs excess oils and detoxifies
Cleanses pores from bacteria and unwanted dead skin cells
Helps fight against acne and tones skin
100% natural and vegan ingredients
Key ingredients: Bamboo Charcoal works like a super-magnet by drawing out impurities of pores. Olive and Coconut Oil provide hydration and smoothness while Kaolin helps calm and soothe irritated skin.
Scent: An essential oil blend of Tea Tree and Bergamot. A light herbal aroma with hints of citrus.
Herbivore Botanicals
Herbivore Botanicals from the USA is a 100% vegan and natural skin care company. In summer 2011, Julia, a graduate in Naturopathy, who is experienced with herbal and aromatherapy and Chinese medicine, founded the company with her husband Alex, who is responsible for design and photography, in their cuisine. All products are handmade, luxurious, contain only effective, vegan and natural ingredients that have been used in ancient times as a remedy, are cruelty free, free of parabens, mineral oils, preservatives, fillers, artificial colors and any other unhealthy chemicals.
Show more from Herbivore Botanicals
show all from Herbivore Botanicals