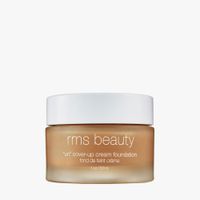 RMS Beauty
"Un" Cover-Up Cream Foundation – Shade 77
Cream Foundation
Making its major debut, this cream foundation uses the same skin loving qualities as the original "un" cover-up. This formula offers more coverage and works to create synergistic skin loving magic for a youthful dewy finish.
Formulated with our signature organic cold centrifuged coconut oil, and a targeted blend of oils and herbs, this formula will help improve skin tone, texture, hydration and overall radiance. This foundation works for all skin types and is available in a wide range of shades formulated to easily master a flawless finish that mimics natural, youthful skin. Works flawlessly with our cult favorite skin2skin foundation brush and can set easily with rms beauty "un" powder.
Luxurious, hydrating and nourishing for healthy luminous skin.
77: a deep sienna
Suitable for: All skin types
Color: A deep sienna
Finish: A natural, luminous finish
RMS Beauty
Rose-Marie Swift had been working as a well-known make-up artist with famous models, photographers and fashion magazines for many years, when she suddenly had to deal with serious health problems. During her healing process and intensive research she discovered that some of the toxic chemicals and heavy metals in her body were also due to common beauty products she used daily. After restoring her own health, Rose-Marie wanted to help other women claim their right to healthy, natural beauty and created the first truly clean makeup line of its kind ...More
Show more from RMS Beauty
show all from RMS Beauty