Leaf Shave
The Twig Razor Kit – Mercury
Razor & Stand
(€80.00 / 1 Stk.)
Prices incl. VAT plus shipping costs
In stock
Delivery within 1–3 Days
Vegan
Less waste
Travel-size
The Twig Razor is the further development of the classic safety razor and is therefore perfect for a precise shave in difficult places. It is particularly well suited for use in sensitive and difficult-to-reach areas such as the genital area, concave areas such as the armpit or shaving contours. The single-edge blade gives the Twig Razor not only the narrowest possible head piece, but a very high level of precision, making it the most agile and accessible razor. With its fixed, tilted head and without the second blade side at the back like common safety razors (single-edge instead of double-edge), it was specifically designed to be easy to use and gentle on the skin. Thanks to the tilt of the head, shaving becomes more comfortable and the blade can be visibly tracked from above at the same time. The Twig Razor delivers a smooth, easy shave in difficult-to-reach areas, while captivating with its value, sleek design.
This bundle includes the matching stand for a clean appearance in the bathroom. It is a sturdy metal stand that showcases your Leaf Razor when it is not in use. It provides a heavy, secure base and features a rubberized bottom to prevent slipping. The stand also helps save some space in the bathroom and protects the Leaf from getting wet, as it can dry faster standing up.

To get started, ten half razor blades (Single edge) are already included. We recommend testing razor blades from different manufacturers to find the personal favorite that best shaves the individual hair length, thickness and density.
Matte (Black & Silver) finishes are softer and will show wear over time; Rose Gold may patina over time; Mercury, Gold, Chrome, Prism and Berryblue are very resilient.
Leaf Shave offsets the entirety of their carbon emissions footprint – from raw materials through production through shipping, Leaf Shave is certified climate neutral.
Leaf Shave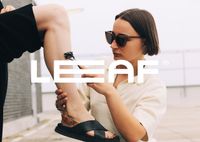 Adam Hahn and Adam Simone founded Leaf Shave 2017 as a Kickstarter campaign with the idea to reinvent a razor. A plastic-free shave people actually love. Someone needed to do it and so they did. Metal straws are popping out of reusable tumblers. People are investing in fewer, but better things. And disposable plastic razor cartridges just don't cut it anymore. That pun – was intended. Leaf, and their razor is simply a better way to shave. We are already completely convinced.
They made a tool for folks with hair – up here, or down there. No pink tax. No wrong answers ...More
Show more from Leaf Shave
show all from Leaf Shave