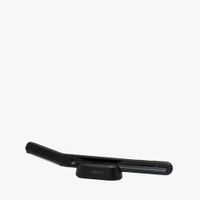 Leaf Shave
The Leaf Dermaplaner Kit – Black
Dermaplaner & Stand
(€62.00 / 1 Stk.)
Prices incl. VAT plus shipping costs
In stock
Delivery within 1–3 Days
Available in Store
Vegan
Less waste
Travel-size
This bundle includes both the Leaf Dermaplaner, and its matching stand, for a precise and clean appearance. The Leaf Dermaplaner is an all-metal, zero-waste system for removing peach fuzz, maintaining facial hair, and exfoliating skin with an Earth-friendly footprint. Turn any standard safety razor blade into an at-home dermaplaning facial razor blade with this unique handle and proprietary blade-guard technology. It is a hand-held device that looks similar to a razor, but is specifically designed for use on the face. The purpose of the Dermaplaner is to gently remove the top layer of dead skin cells and fine facial hairs, often referred to as 'peach fuzz'. Use each refill up to 3 times, or swap as needed. The Leaf Dermaplaner is a perfect fit for people currently using plastic or disposable dermaplaners or facial shavers, or for those who have never tried at-home dermaplaning but are interested in trying. You can also use Dermaplaner to shape eyebrows if you find plucking too tedious or waxing too taxing while it is also good for addressing clogged pores, dry skin, dark spots and uneven texture. Every Leaf Dermaplaner includes a steel precision clip. Clip this onto the head to cover a portion of the blade, effectively creating a smaller blade exposure for precision work, to maintain brows and other fine facial hair. The matching stand included in this set also helps to store the dermaplaner and can be used in either direction – vertically to save space or horizontally to luxuriate the Dermaplaner in all of it's stunning glory.
Leaf Shave is at the forefront of innovation in razors ... and now in skincare tools too! This unique handle and patent-pending blade guard design transforms traditional safety razor blades into dermaplaning blades for safe use at home. Simply flip open the head, attach the blade guard and insert a new blade. With the Leaf Dermaplaner for home use, the sky's the limit when it comes to skin care. Two half razor blades and two blade guards are already included to get you started. We recommend testing razor blades from different manufacturers to find your personal favourite that best shaves your individual hair length, thickness and density.
Matte (Black & Silver) finishes are softer and will show wear over time; Rose Gold may patina over time; Mercury, Gold and Chrome are very resilient.
Leaf Shave offsets the entirety of their carbon emissions footprint – from raw materials through production through shipping, Leaf Shave is certified climate neutral.
Leaf Shave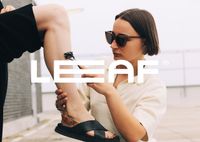 Adam Hahn and Adam Simone founded Leaf Shave 2017 as a Kickstarter campaign with the idea to reinvent a razor. A plastic-free shave people actually love. Someone needed to do it and so they did. Metal straws are popping out of reusable tumblers. People are investing in fewer, but better things. And disposable plastic razor cartridges just don't cut it anymore. That pun – was intended. Leaf, and their razor is simply a better way to shave. We are already completely convinced.
They made a tool for folks with hair – up here, or down there. No pink tax. No wrong answers ...More
Show more from Leaf Shave
show all from Leaf Shave