Grown Alchemist
Anti-Oxidant+ Facial Oil: Borago, Rosehip & Buckthorn Berry
Face Oil
Anti-Oxidant+ Facial Oil: Borago, Rosehip & Buckthorn Berry by Grown Alchemist is a potent, certified organic facial serum formulated using a synergistic blend of Antioxidants and nutrients that noticeably improve skin elasticity, reduce the appearance of fine lines and protect against the signs of aging. Leaves facial skin looking firm, noticeably hydrated and feeling soft and smooth.
Free radical fighting Antioxidants from essential fatty acids found in Rosehip Oil and Sea-Buckthorn Berry combine giving the skin a well nourished and moisturised appearance whilst noticeably improving elasticity visibly reducing the signs of aging.
Sweet Almond Oil and Rice Bran rich in vitamins a, b1, b2, b6, & e and oryzanol visibly improve skin tone and firmness while reducing the appearance of age spots, leaving the skin complexion looking beautifully radiant.
Borago rich in hydrating and nourishing triglycerides noticeably balances and improves skin hydration.
Cranberry Seed Oil a rich source of gamma-tocotrienols and asta- xanthin, helps repair the appearance of skin effected by oxidative stress.
Scent: A refreshing herbal aroma.
Grown Alchemist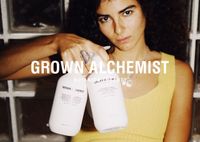 Grown Alchemist is the latest generation of organic skin care from Australia and already the insider tip in the beauty scene. The brand promises beautiful skin thanks to the pure power of nature. Grown Alchemist combines unique formulas with some of the most effective anti-aging plant extracts in soothing balms, serums, elixirs and creams for the face, body and scalp. The products contain certified organic ingredients on a pure plant basis and natural power agents, which provide for a better beauty effect without the addition of harmful artificial chemicals and preservatives ...More
Show more from Grown Alchemist
show all from Grown Alchemist