Products from equality.
For equality. founder Lukas Görlitz, the 2019 European elections and the growing strength of right-wing parties were the foundation for his brand equality. As before, people are still defined and or even disparaged by their origin, skin color, race, culture, religion, gender and sexuality. So his idea was to create a fragrance that reminds and encourages people to live with love and not hate, and to carry this positive energy proudly and loudly to the outside world. According to Lukas, smell is one of the strongest senses and has the power to trigger memories and thus influence actions. In order not to think the equality approach alone individually and too small, IJM was included in the concept of equality. as an internationally active and like-minded human rights organization. Equality. would like to create an impact and support the work of IJM. Therefore 10% of the income of equality. goes to its partner IJM. The approach of equality. is to form a more tolerant society in which everyone feels comfortable. This fragrance is not only a perfume, but a statement. Whoever wears it is part of a community that needs no words to understand what human values are all about. Open yourself, be unprejudiced, be human, because: it's on you.
No results were found for the filter!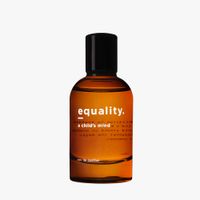 equality.
a child´s mind – Eau de Parfum – 50ml
Eau de Parfum
Content
(€2,200.00 * / 1 l)