Flickering light against the darkness. The light of equality. Candle illuminates from within with its warm, crackling notes, providing a spark of solidarity and equality. A sensual fragrance that stands for the individuality of the person who sees the world without borders and lives tolerance. equality. Candle fills the air and hearts with the subtle scent of warm sandalwood, spicy cardamom and gentle notes of jasmine - a warm, soft fragrance that invites you to feel good.
Notes: Sandalwood, Cardamom, Jasmine
equality.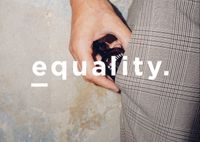 For equality. founder Lukas Görlitz, the 2019 European elections and the growing strength of right-wing parties were the foundation for his brand equality. As before, people are still defined and or even disparaged by their origin, skin color, race, culture, religion, gender and sexuality. So his idea was to create a fragrance that reminds and encourages people to live with love and not hate, and to carry this positive energy proudly and loudly to the outside world. According to Lukas, smell is one of the strongest senses and has the power to trigger memories and thus influence ...More
show all from equality.