equality.
dear empathy – Eau de Parfum – 50ml
Eau de Parfum
(€2,200.00 / 1 l)
Prices incl. VAT plus shipping costs
In stock
Delivery within 1–3 Days
Available in Store
Vegan
Less waste
Travel-size
Close your eyes and let yourself be filled by blooming fields of Lavender and the smell of energizing fresh green gras in the air. Elusive moments of Geraniums citrusy accents complement the blissful feeling with a hint of spice. The woody and sweet balsamic aromas of Elemi carry you further away into seductive lands of floral-oriental Bulgarian rose oil and Osmanthus. Mossy amyris wood and smoky sweet labdanum form an unforgettable combination, finalizing the diffusion on your skin with soft but rich Indian sandalwood, completing your feeling to your own empathy.
Top Notes: Geranium, Chamomille, Lavender, Green Grass
Heart Notes: Elemi, Bulgarian Rose Oil, Osmanthus
Base Notes: Amyris Wood, Cedarwood Atlas, Indian Sandalwood, Labdanum
equality.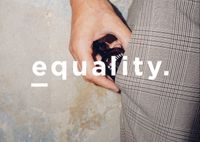 For equality. founder Lukas Görlitz, the 2019 European elections and the growing strength of right-wing parties were the foundation for his brand equality. As before, people are still defined and or even disparaged by their origin, skin color, race, culture, religion, gender and sexuality. So his idea was to create a fragrance that reminds and encourages people to live with love and not hate, and to carry this positive energy proudly and loudly to the outside world. According to Lukas, smell is one of the strongest senses and has the power to trigger memories and thus influence ...More
show all from equality.