This product is currently not available.
Please inform me as soon as the product is available again.
The Wash from Noto is a gentle cleanser for the whole body, face and hair. In combination with water, the wash acts as a subtle, foaming washing gel, which also serves as a gentle soap and oil cleasner. Dirt and bacteria are gently removed. A specially curated group of essential oils provides moisture and stores it permanently in the skin. Great for all skin types, including sensitive skin.
Coriander: Antibacterial, Strengthening, regenerative properties;
Black Pepper: High in antioxidants, stimulates blood flow, anti-viral
Bergamot: Reduces inflammation, antibacterial, uplifting
Cedar Wood: Increases circulation, anti-bacterial, grounding
Organic Aloe Juice: Moisturizing, calming, can stimulate collagen production
Scent: A refreshing scent of black pepper, fresh wood and light coriander.
NOTO Botanics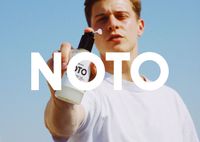 Multi-Use / Minimal / Uni-Sexy
NOTO Botanics is a natural, fluid in gender, multi-use cosmetic line that is packed with uncomplicated yet high performing natural & organic ingredients. All products are vegan & cruelty-free. The brand believes in the power of simplicity, focuses on inclusivity, customer reviewed real results, minimal editorial design and a deep give back philosophy. The aspiration to be well is something Noto holds dear and believes it should be available for everyone ...More
Show more from NOTO Botanics
show all from NOTO Botanics