This product is currently not available.
Please inform me as soon as the product is available again.
Deep Serum by Noto Botanics is a potent, nutrient dense face oil made of botanical oils and extracts. It will brighten and protect with hydration rich, age managing elements and fresh notes that will deeply penetrate skin and senses. Great for all skin types including: sensitive, dry, acne prone, oily, or combo.
Marula Oil: Rich in vitamin C, tocopherol (vitamin E), phenolic compounds, essential amino acids and flavonoids that help cells renew, essential fatty acids Omega 9 - oleic and Omega 6 - linoleic that deeply hydrate and reduce redness
Rosehip Seed Oil: anti-aging, anti-inflammatory, nourishing
Grapeseed Oil: moisturizing, anti-aging
Sea Buckthorn Oil: high in vitamin C, tissue healing, radio-protective benefits, wrinkle reducing
Wild Carrot Oil: cell rejuvenation, vitamin A, acne healing, moisturizing
Grapefruit Oil: vitamin C, antiseptic, disinfectant
Green Coffee Oil: skin tightening, awakening
Scent: A refreshing aroma of Grapefruit.
NOTO Botanics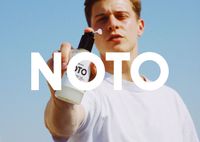 Multi-Use / Minimal / Uni-Sexy
NOTO Botanics is a natural, fluid in gender, multi-use cosmetic line that is packed with uncomplicated yet high performing natural & organic ingredients. All products are vegan & cruelty-free. The brand believes in the power of simplicity, focuses on inclusivity, customer reviewed real results, minimal editorial design and a deep give back philosophy. The aspiration to be well is something Noto holds dear and believes it should be available for everyone ...More
Show more from NOTO Botanics
show all from NOTO Botanics