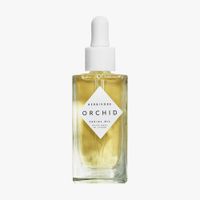 (€1,578.00 / 1 l)
Prices incl. VAT plus shipping costs
In stock
Delivery within 1–3 Days
Available in Store
Vegan
Less waste
Travel-size
A high-quality anti-aging face oil, that hydrates and gives skin a bright youthful glow.
Nourishes and hydrates skin
Helps to restore and revitalize the skin after shaving
Protects against free radicals
Increases skins elasticity
Anti-aging effect wards off wrinkles and skin damage
100% natural and vegan ingredients
Key ingredients: Orchid Extract draws moisture to the skin, is high in minerals and fights premature aging. Camellia Flower Oil absorbes easily, is rich in skin cell renewing fatty acids and gives skin a youthful glow while Jasmine Sambac Oil increases the skin's moisture content and increases its elasticity.
Scent: Jasmine Sambac creates a floral aroma.
Herbivore Botanicals
Herbivore Botanicals from the USA is a 100% vegan and natural skin care company. In summer 2011, Julia, a graduate in Naturopathy, who is experienced with herbal and aromatherapy and Chinese medicine, founded the company with her husband Alex, who is responsible for design and photography, in their cuisine. All products are handmade, luxurious, contain only effective, vegan and natural ingredients that have been used in ancient times as a remedy, are cruelty free, free of parabens, mineral oils, preservatives, fillers, artificial colors and any other unhealthy chemicals.
Show more from Herbivore Botanicals
show all from Herbivore Botanicals