Hand, Face & Body Soap Bar
A soap bar that gently cleanses, hydrates, heals and invigorates by it´s unique natural fragrance.
Gently cleanses sensitive areas such as face, neck and armpits without drying effect
Delicately removes dirt, excess oil, unwanted dead skin
Antibacterial properties help against acne
Hydrates and helps to smooth and even out your skin
Vegan
Key ingredients: Almond Milk and plant-based Glycerin cleanse, hydrate, soothe and prevent your skin from drying out. Rosehip Oil treats, heals and protects while flakes of oat gently massage the surface of your skin.
Scent: An essential oil blend of Cedar, Juniper, Cypress and Bergamot. A very fruity and refreshing scent of wood, smoke, citrus fruits and almonds.
Triumph & Disaster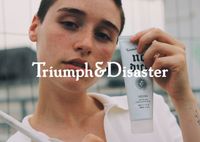 Triumph & Disaster aus Neuseeland ist eine moderne Apotheke und Hautpflege-Manufaktur, deren Produkte sich an den Säulen Ritual, Charakter und Schicksal orientieren. Gründer ist Dion Nash, ein ehemaliger Cricket-Profi, der die Marke nach dem Gedicht "IF" von Rudyard Kipling benannte, das er als Kind von seinem Vater bekam. Jedes Produkt hat einen maßgeschneiderten, natürlichen Duft, der an frühere Werte aus alten Zeiten erinnert. Die Philosophie ist es, effektive, sichere und nachhaltige Produkte mit Hilfe modernster Wissenschaft und den besten natürlichen Wirkstoffen zu ...Mehr
Show more from Triumph & Disaster
show all from Triumph & Disaster