This product is currently not available.
Please inform me as soon as the product is available again.
A high-quality, mineral sunscreen, that protects the skin from harmful sun's rays, moisturizes and is rich in antioxidants.
Sun protection factor 50 safely protects from UVA & UVB rays
Premium moisturizing qualities and protection from free radicals
No chemical sunscreen – natural, mineral protection
Made for sensitive skin – does not irritate or clog pores
Non-greasy – light on the skin and easily absorbed
Non whitening, doens not leave a white sheen or film
Does not stain on clothes
Vegan
Key ingredients: Titanium Dioxide and Zinc Oxide protect against harmful sun's rays, premature skin aging and skin cancer, do not absorb into the skin and do not irritate. Jojoba Oil and Green Tea Extract moisturize deeply, have a healing anti-aging effect, are rich in antioxidants and absorb quickly.
Scent: An essential oil blend of Galbanum, Patchouli, Anise, Lavender, Geranium, Clove, Ylang, Sandalwood, Cinnamon, Benzoin and Orange. A light, natural scent that reminds of herbs, leather, tobacco and wood.
Triumph & Disaster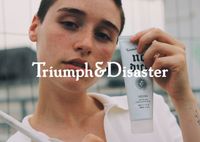 Triumph & Disaster aus Neuseeland ist eine moderne Apotheke und Hautpflege-Manufaktur, deren Produkte sich an den Säulen Ritual, Charakter und Schicksal orientieren. Gründer ist Dion Nash, ein ehemaliger Cricket-Profi, der die Marke nach dem Gedicht "IF" von Rudyard Kipling benannte, das er als Kind von seinem Vater bekam. Jedes Produkt hat einen maßgeschneiderten, natürlichen Duft, der an frühere Werte aus alten Zeiten erinnert. Die Philosophie ist es, effektive, sichere und nachhaltige Produkte mit Hilfe modernster Wissenschaft und den besten natürlichen Wirkstoffen zu ...Mehr
Show more from Triumph & Disaster
show all from Triumph & Disaster