Nuori
Lip Treat – Copenhagen
Tinted Lip Balm
This product is currently not available.
Please inform me as soon as the product is available again.
A smooth, luxurious lip balm that moisturizes and gently heals dry, chapped lips. With a light texture, moisture is sealed in and the lips are protected from environmental influences sustainably. Natural coloring agents give the lips an elegant, seductive look.
A delicious, peach-colored blend of natural hydrating wonders that gives your lips an effortlessly polished look, inspired by the cool and contemporary city of Copenhagen.
Suitable for: All skin types
To be used as: Tinted lip balm
Nuori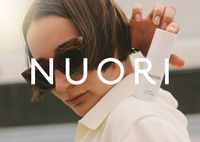 By applauding the power of freshness, Nuori introduces a new generation of skincare products with the highest level of efficacy and purity for today's uncompromising customers. Freshness allows them to create pure and 100% natural products, completely free of synthetic additives that artificially prolong the shelf life of skincare formulas. Freshness also ensures peak efficacy, as active ingredients are not weakened by time-related breakdown. To guarantee that Nuori products are the freshest on market, the products are freshly blended in small batches ...More
show all from Nuori