This product is currently not available.
Please inform me as soon as the product is available again.
Rooted Oil by Noto Botanics is a moisture rich uni-sexy oil scent for skin and hair and it is modern take on the shamanistic smell of burning palo santo and other oils of nature. Deep yet subtle undertones of smoke, wood, and earth and hints of bergamot and cardamom give this scent layers of grounding. With a base of argan oil, it dually acts as a nourishing hair oil. Also very suitable for beards.
Palo Santo: natural purifier, concentration, grounding, mood lifter
Frankincense: antiseptic, healing, anti-aging, protection
Vetiver: calming, cooling, grounding, centering
Black Pepper: sensuality, mind stimulating + clearing
Cedarwood: toxin remover, soothing, optimism enhancing
Labdanum Absolute: mind calming, anti-aging, grounding
Fractioned Coconut Oil: nourishing, hydrating
Cardamom: aphrodisiac, uplifting, antiseptic, camphorous
Fir: antiseptic, soothing
Birch Tar: astringent, comforting, relaxing
Bergamot: antiseptic, antidepressant, disinfectant
Argan Oil: high in vitamin A and E, nourishing, anti-aging, anti-inflammatory
Scent: A very smoky composition reminiscent of relaxing campfire evenings.
NOTO Botanics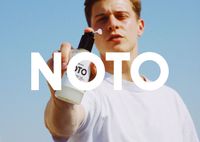 Multi-Use / Minimal / Uni-Sexy
NOTO Botanics is a natural, fluid in gender, multi-use cosmetic line that is packed with uncomplicated yet high performing natural & organic ingredients. All products are vegan & cruelty-free. The brand believes in the power of simplicity, focuses on inclusivity, customer reviewed real results, minimal editorial design and a deep give back philosophy. The aspiration to be well is something Noto holds dear and believes it should be available for everyone ...More
Show more from NOTO Botanics
show all from NOTO Botanics