A moisturizing face cream that not only protects your skin but is also rich in vitamins and leaves your skin feeling supple.
Moisturises and hydrates dry skin
Balances your skin's natural oils
Non-greasy – light on the skin and easily absorbed
All natural anti-aging property reduces wrinkels
Leaves skin feeling soft and smooth
Helps to restore and revitalize the skin after shaving
Vegan
Key ingredients: Jojoba Oil, Ponga Fern and Horopito Oil hydrate dry skin, create a natural barrier to lock in moisture and protect against the elements. They also speed up the healing process of wounds and cuts, help against skin irritation and provide much-needed antioxidants.
Scent: An essential oil blend of Galbanum, Patchouli, Anise, Lavender, Geranium, Clove, Ylang, Sandalwood, Cinnamon, Benzoin and Orange. Reminds of herbs, smoke, leather, tobacco and wood.
Triumph & Disaster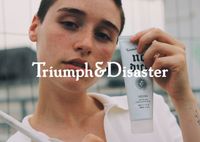 Triumph & Disaster aus Neuseeland ist eine moderne Apotheke und Hautpflege-Manufaktur, deren Produkte sich an den Säulen Ritual, Charakter und Schicksal orientieren. Gründer ist Dion Nash, ein ehemaliger Cricket-Profi, der die Marke nach dem Gedicht "IF" von Rudyard Kipling benannte, das er als Kind von seinem Vater bekam. Jedes Produkt hat einen maßgeschneiderten, natürlichen Duft, der an frühere Werte aus alten Zeiten erinnert. Die Philosophie ist es, effektive, sichere und nachhaltige Produkte mit Hilfe modernster Wissenschaft und den besten natürlichen Wirkstoffen zu ...Mehr
Show more from Triumph & Disaster
show all from Triumph & Disaster