(€3,993.33 / 1 l)
Prices incl. VAT plus shipping costs
In stock
Delivery within 1–3 Days
Available in Store
Vegan
Less waste
Travel-size
A highly effective eye serum, that reduces fine wrinkles as well as puffiness and helps against dark circles.
Moisturises the skin under your eyes
Reduces the appearance of dark circles and puffiness
All natural anti-aging property reduces wrinkels
Attacks crow´s feet
Supports collagen production
Calms the skin under your eyes
Light on the skin and easily absorbed
Protects and makes skin smoother
Vegan
Key ingredients: Norwegian Kelp, Persian Silk & Gotu Kola tighten and lift sagging, tired skin. Specifically designed to target the upper eyelid they fight free radicals, encourage collagen and elastin production and reduce the effects of glycation by supporting the walls of blood vessels, helping to prevent dark circles and crows feet. Swamp Maple Bark Extract is a naturally occurring active ingredient with clinically proven procollagen and proelastin properties. It stimulates dermal regeneration by increasing collagen production while inhibiting collagenase enzyme synthesis that degrades collagen with age. Horopito, one of the worlds oldest flowering plants, surviving for over 65 million years thanks to its natural chemical defence system is very rich in antioxidants and a fantastic toning and conditioning agent.
Scent: Neutral
Triumph & Disaster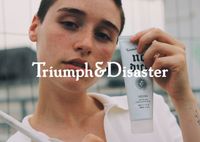 Triumph & Disaster aus Neuseeland ist eine moderne Apotheke und Hautpflege-Manufaktur, deren Produkte sich an den Säulen Ritual, Charakter und Schicksal orientieren. Gründer ist Dion Nash, ein ehemaliger Cricket-Profi, der die Marke nach dem Gedicht "IF" von Rudyard Kipling benannte, das er als Kind von seinem Vater bekam. Jedes Produkt hat einen maßgeschneiderten, natürlichen Duft, der an frühere Werte aus alten Zeiten erinnert. Die Philosophie ist es, effektive, sichere und nachhaltige Produkte mit Hilfe modernster Wissenschaft und den besten natürlichen Wirkstoffen zu ...Mehr
Show more from Triumph & Disaster
show all from Triumph & Disaster